Big Experts on Little Teeth
Ease into oral health habits at our family-oriented office.
Children aren't born with a fear of dentists. However, they do fear the unknown. With loud noises and strange tools inside their mouth, we understand your child might be hesitant about a trip to the dentist. We're here to make them feel comfortable and experience oral excellence from an early start. Find out what makes us a Top Rated Pediatric Dentist in Calgary.
Top Rated Pediatric Dentist in Calgary
We put comfort and confidence at the center of every treatment plan
Top Rated Pediatric Dentist in Calgary
We put comfort and confidence at the centre of every treatment plan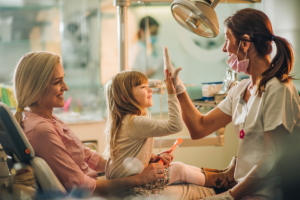 Regular Check-Ups From The First Tooth
Children and adolescents are at a high risk of tooth decay caused by sugars left in their mouths. This sugar turns to acid, which breaks down the teeth. One simple solution is often overlooked: proper brushing and flossing routines combined with a dental visit every six months. 
We're not your standard dentistry office. We get to know your child, help them ease into their appointments, and put their comfort first. You can depend on us for:
Regular checkups with a smile.

Sound advice for years of healthy oral hygiene.

Sealants to prevent tooth decay in hard-to-reach areas.

Fillings, only when required.

Quality care and expertise, from our family to yours.
Find Out Why
Calgary Families Love Our Office
My daughter and I have been going here for many years and have always had a great experience. The staff are friendly and the office is very welcoming. If you're looking for a family dentist, this is the place to go.
My child has been going to Dr Abe since June 2017. We have had a wonderful experience; including cleanings for a highly allergic child, and getting an appliance for upper and lower teeth. We have seen the doctor about once a month (sometimes more) during this entire time and we have had a wonderful experience at every interaction. We also have had to get squeezed in at the last minute and they have always accommodated what we have needed. We appreciate their customer service and their location, so close to home for us that we can walk.
I love Somerset Dental! They have been extremely nice, honest and punctual. All the women in there are extremely friendly, especially with the kids! Great place for family dental needs in South Calgary.
I've had one of the best experiences here. The staff was so friendly and I felt relaxed and confident in their skills. About two months ago I had a broken tooth that had been worked on multiple times with other dentists, and Dr. Abe helped me fix it. My tooth is still doing great and my gums are no longer bleeding like it used to. Super happy!
After many years of missing Dental work l finally had to go for fillings & cleaning. Everything was explained to me the staff are amazing with a great sense of humour…. which of course makes anyone more at ease.
What a breath of fresh air! This is by far, the best place that I have been to. From the staff at the front, to the assistants, to the doctors themselves. Kind, courteous, and gentle! So far, I've had a tooth extraction, and a filling done, and both were done amazingly well. Got the bite right the first time. No going back to get it done a second or third time. Take time to pat yourself on the back folks. You know exactly how to get it done properly.
Start Healthy Hygiene Habits
New teeth can be susceptible to cavities from sugary foods and liquids. It's vital that you check your child's teeth every two weeks for lines and discoloration that show signs of tooth decay. For optimal hygiene for your child's new teeth, we recommend brushing at least twice a day.
But what about babies or toddlers that can't brush their teeth by themselves yet?
Parents can assist their children's healthy oral hygiene habits from the moment the first tooth arrives. All you need is a soft-bristled brush and a rice-kernel sized amount of non fluoridated toothpaste. In Calgary, we don't have any fluoride supplement added to the water, so it's up to your discretion if you use fluoride toothpaste unless advised by your dentist.
Developing Healthy Oral Habits
From The Start
Developing Healthy Oral Habits
From The Start